Submit Unity IdM Feature Request
Time to implement feature requests coming from the Open Source community varies significantly depending on the assessed size and general usefulness of the feature.
Request your features through us, to get them shipped on an agreed, fast timeline.
Unity IdM Support
Unity-IdM is backed by Authvisor. We know this product from the linings, and can help you with deployment, configuration and ongoing operations.
Authentication and Authorization advisory services
Implement the right security with us.
We can support your organization in selecting the right technology and help designing the authentication, authorization and user enrollment process. Regardless if you are a startup or run a large federation, we can help you to review the security of your use cases and craft a design that meets your requirements.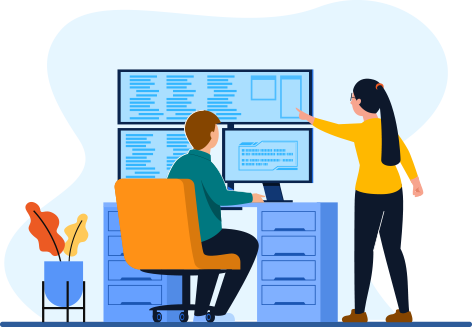 Choose the contract type tailored to your needs
Sign the support contract with us, select one of the cooperation styles:
One time contract – envisioned for companies that need to get a specific feature development. Share with us your idea and we will contact you to shape out requirements, provide timeline and estimated costs.
Pay as you go – a framed contract where both parties make an agreement on the partnership length, price and expected delivery timeline. Pay for the provided services and requested features as you need them.
Subscription – we value long-term relationships and cooperation. Knowing our customer's demands and domain, allows us to provide the best services. The subscription model with recurring payments, reduces the overall long-term costs. This type of partnership is targeted to customers with long term projects that require constant support and secured resources for development.
Our offering is both flexible and affordable to meet expectations of startups, SMEs and larger enterprises.
Open Source
Unity Identity Management
Unity IdM is backed by Authvisor. We stand behind development and management of the Open Source project, and in addition we offer commercial support options.
Unity-IdM is a mature product, with production ready features available out of the box. It has been used by startups and High Performance Computing centers for years, proving its value in the AAI, IdM, user management and enrollment areas.
Extremely flexible authentication service that offers complete solutions for identity, federation and inter-federation management.
Supports authentication of web and cloud resources.
Can act as a bridge to a legacy users store.
Integrates 3rd party identity providers with local services.
Includes separate web interfaces for system administrators and non-technical organization managers.
History
We have a great history which we want to share with our clients
2013
Unity-IdM was born under an open source license.
2016
BixBit provides paid support for

Unity-IdM

, and builds IAM class software on top of

Unity-IdM

. Company starts cooperation with HPCs and startups.
2020
BixBit expands management and development team. Enterprise application development:

Focusing on systems with significant user management capabilities
Excelling in HPC centers supporting software

2021
Launching public commercial Unity-IdM support services under the Authvisor trademark.
WHY US?
We create value for our customers
Through the time working on Unity IdM Open Source since 2013, the growing team has gained experience in the area of authentication and authorization. We are confident in providing you the advisory services in the aforementioned areas, as well as in building secure software. We create solutions that bring value to our customers, and are crafted to their needs. We have an attitude to deeply understand the customer's requirements and support them in achieving their goals. As a small company we are flexible and we can offer services tailored to the needs of startups and the SME sector.
Using Open Source IdM software brings many advantages:
costs nothing to try,
it can be easily downloaded for testing, installed and used for prototyping deployments,
no vendor lock-in,
is fully transparent and can be easily audited.
Open source

Flexible and powerful software of IAM class.

Experienced team on a security field
Proven its value in federated HPC centres in Europe and Startups
BELIEFS AND VALUES
Security crafted to your needs
Secure authentication should be widely available for everybody.
Integration of authentication service should be seamless and fast.
Powerful users management needs not to be reinvented for each product.
Roman Krysinski
Co-founder
The holder of an MSc degree in computer science conferred by the Nicolaus Copernicus University in Toruń. Started his professional career working for Lucent Technologies learning through high demands for quality, performance and reliability of products in the telecommunication industry. He gained unique experience by managing, leading and executing large projects working in startups. Roman has built-up knowledge in deployment of authentication and authorization systems as a Unity IdM contributor. Roman is also co-founder of Unity IdM project.
Krzysztof Benedyczak
Co-founder
Holder of a PhD degree in applied computer science conferred by the Polish Academy of Sciences. The author of over 20 scientific publications and a speaker at many scientific and engineering conferences.
Krzysztof has extensive experience in development, integration and deployment of authentication and authorization systems. He was involved in multiple HPC, Grid and distributed computing projects as well as in the development of startup software. The Unity IdM project was started by Krzysztof.
CONTACT US
Drop us a line about your project
Need a hand? Fill out the form below, let us know how we can help and we will contact you as quickly as possible.
By sending us inquiries, you agree to processing of your personal data and sending you further correspondence.